Agricultural producers know that when they're tilling, planting, applying, or hauling in large fields, they need a row crop tractor with the brains and brawn to get the job done right. The John Deere 8R series tractors combine impressive power and durability with state-of-the-art technology to make every task out in the field as easy as pie. Read on to learn more about the features and capabilities of the John Deere 8R series. 
What is the John Deere 8R Series?
The John Deere 8R series tractors are a step up in the evolution of row crop tractors, combining power and durability with the reliable exactness of precision ag technology. While the 8R series is available as wheeled models, two-track and four-track configurations are also available through the 8RT and 8RX series, respectively. All three configurations are built with the horsepower and hydraulic capabilities to effectively wield large planters and other implements, giving agricultural producers a state-of-the-art combination of intelligence and raw power.
What is a Row Crop Tractor?
A row crop tractor, like the John Deere 8R series, is an agile and versatile tractor intended to be a go-to for farming operations. Regardless of whether you choose a wheeled, two-track, or four-track configuration, these tractors are specially designed to provide optimal visibility when working around and between crops, and can be used with a variety of crop implements like planters, disks, field cultivators, and grain carts. With the right attachments, they can also be used for other tasks around the farm, such as grading land. They differ from other common tractor types, such as utility tractors, in that while they are versatile enough to be used for other purposes on a farmer's land, they are specifically intended for close maneuverability around and among crops to prevent loss and damage, rather than being an "all-around workhorse".
What Sets the John Deere 8R Series Apart from Other Row Crop Tractors?
The John Deere 8R series was designed to provide not only top-of-the-line agricultural tech, but also a broad range of customization and upgrade options. Far from being just another row crop tractor, the 8R series boasts groundbreaking innovation alongside massive power and discerning comfort options. Below, we've outlined some key features and capabilities that set the 8R series apart from the rest.
Best-in-Class Ag Tech
A quartet of game-changing John Deere tech features now come standard on all John Deere 8R series tractors. A StarFire 6000 GPS receiver helps you keep your bearings no matter how vast your fields are, JDLink™ connectivity keeps you in step with everything going on around the farm with real-time data, a Generation 4 CommandCenter™ display keeps you in control, and AutoTrac guidance keeps you right on track. Together, these features make it easier than ever for agricultural producers to see and manage everything that's going on around them, all at once, all while completing your vital field tasks in your John Deere 8R.
Independent Link Suspension (ILS™)
Experience a much smoother ride and drastically decreased power hop over rough terrain with the John Deere 8R's Independent Link Suspension (ILS™). This innovative suspension system maintains optimal tire-to-ground contact via a fully independent suspension system, helping deliver power to the ground and creating a much more comfortable ride for farmers spending long days in the cab of their 8R.
3 Customizable Transmission Options
Choose the perfect transmission for your day-to-day tasks and build the perfect 8R configuration for you. Three transmission options are available, the 16-speed PowerShift, e23™ PowerShift, or the Infinitely Variable Transmission (IVT™) with optional CommandPRO™ control. All three options put the 8R's controls directly into the hands of operators for the ultimate in flexibility and control. 
Customizable Visibility and Comfort Packages
Customize your John Deere 8R tractor with 3 levels of visibility and comfort packages, designed to provide every agricultural producer with the perfect set of features for their unique needs. Choose from Select, Premium, or Ultimate visibility and comfort packages featuring elements like LED lighting, 360-degree illumination, integrated camera capability, outlets for device charging, a CommandARM™ console, and more.
What are the Features of the John Deere 8R Series Tractors?
While the 7 models of the John Deere 8R series vary in terms of HP and size, they share a set of 8 key features which give the 8R its unique appeal and value for agricultural producers. Below, we dive into the unique attributes of the 8R series that make it such a valuable addition to any farm.
3 Available Visibility Packages for Maximum Productivity
Never lose out on productive hours or make a mistake again due to bad light conditions or poor visibility. John Deere visibility packages include not just lighting options, but also mirrors, sunshades, wipers, and integrated camera capabilities for complete and consistent visibility in every direction. Key features of the 8R's visibility packages include:
Three Package Options Available: Select, Premium, and Ultimate
Ultimate Visibility package features enhanced light-emitting diode (LED) output and full 360-degree illumination
Integrated camera capability
Customizable Suspension Options for a Comfortable Ride in Every Season
8R tractors offer a variety of suspension options to fit your specific field conditions or application. There are three options to choose from on 8R tractors. An air seat with fixed cab offers a great balance of field and road comfort in an economical package. Cab suspension with an air seat reduces high-frequency vibrations typically associated with road transport. The ActiveSeat™ II equipment is typically chosen for field applications to reduce vertical movement and operator fatigue.
Air seat with fixed cab offers excellent ride quality in a variety of applications
Two-post cab suspension with an air seat offers exceptional ride for operators spending time on the road
ActiveSeat II greatly reduces vertical motion experienced in field applications
Choice of options is available on all 8R tractors
Hydraulic Options for Even the Most Demanding Tasks
Every John Deere 8R series tractors comes standard with an 85-cc (5.2-cu in.) hydraulic pump, which provides up to 227.1 L/min (60 gpm) hydraulic flow. For even greater hydraulic capacity, a dual pump option featuring 85-cc and 35-cc (5.2-cu in. and 2.1-cu in.) displacement hydraulic pumps is available for all 8R series tractors. This dual-pump option creates a hydraulic flow of 318 L/min (84 gpm), perfect for tasks which require lower engine speeds. In addition, up to six selective control valves (SCVs) are available with 1.9-cm (3/4-in.) options.
Both single and dual pump options for even the most strenuous applications
Up to 318 L/min (84 gpm) through the dual pump system on all 8R tractors
Options from four to six factory-installed SCVs
For maximum flow, 1.9-cm (3/4-in.) selective control valve (SCV) couplers are available both factory- and field- installed
For the ultimate in power and hydraulic capacity, a power-beyond option is available on all models, and a high-capacity take-out oil reservoir is also available for demanding projects.
Customizable Comfort and Convenience for Every Operator
When you log serious hours in your cab, you need serious comfort and convenience to get the job done. With the refreshed and refined cab on the John Deere 8R series, you'll  experience a quiet, comfortable ride with best-in-class convenience and visibility features.
Three customizable comfort and convenience package levels to fit your preferences – Select, Premium, and Ultimate
Convenient CommandARM™ console that puts all your essentials at your fingertips
Ample storage in convenient locations for all your workday necessities
Automotive-style seat for comfort while working long days in the field
Numerous outlets for keeping electronics powered throughout the day
Central Tire Inflation System (CTIS)
As all agricultural producers know, adjusting tire pressure on large tractors can take both valuable time and inconvenient amounts of extra equipment when adjusting tire pressures for transport or field operations. Thankfully, the John Deere CTIS system, when used on tractors equipped with Independent Link Suspension (ILS™), makes this once-strenuous process a breeze. When set to "road" mode, CTIS automatically increases air pressure in your 8R's tires, making transport more efficient, reducing tire wear, improving ride quality and boosting handling capabilities. Alternatively, when using the "field" setting, CTIS decreases air pressure to the tires, creating a larger footprint with better lug engagement. This reduces slip and ground pressure for increased agronomic benefits. 
According to Ryan Jardon, tactical marketing manager for John Deere, "Using CTIS, operators can monitor and adjust tire pressure as quick as 2 PSI/min, from the cab, push-button easy. CTIS makes it easy to adjust and optimize inflation pressures regardless of the task." The flexibility to adjust tire pressure directly from the cab allows operators to easily switch from one type of terrain to another throughout their workday, saving both time and precious daylight hours for the important agricultural tasks at hand.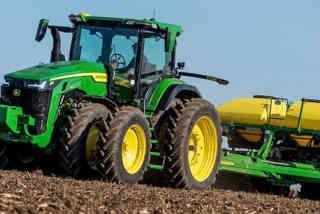 John Deere 8R Series Models
John Deere 8R 230
The first in the lineup of 8R series tractors, the John Deere 8R 230 is a relatively compact and lightweight model with impressive power and agility. Here are some key specs for the 8R 230:  
Engine hp1: 253 Max | 230 hp Rated
Fully Integrated Precision Ag Technology
Choice of e23™ PowerShift, Infinitely Variable Transmission (IVT™) or 16-speed PowerShift Transmissions
Independent Link Suspension (ILS™)
Three Cab and Visibility Packages Available to Customize Your Tractor
What Awards Has the John Deere 8R Series Won? 
John Deere has long been known for its commitment to delivering excellent equipment, and the 8R tractor series is no exception. The John Deere 8R series tractors have been gaining the recognition they deserve for their innovative technology and unique combination of comfort and power.  Through a pair of prestigious awards, the Red Dot Design Award and the 2020 iF Design Award (Discipline: Product), the John Deere 8R series tractors are earning a well-deserved reputation as a necessity for agricultural producers around the country, and around the world.
Red Dot Award (Product Design)
The Red Dot Award for Product Design is an honor awarded to the year's top products, and in 2020, the John Deere 8R tractor series won top honors. This award is bestowed based on a range of criteria encompassing everything from functionality to innovation, and the 8R series delivered on every category.
"The 8R tractors have a striking external appearance that is an expression of their performance and efficiency," the jury for the Red Dot Award said. "The interior is well thought out in terms of ergonomics. This honor just goes to show how thoroughly John Deere has thought through ever aspect of the 8R series, keeping both function and comfort in mind. 
2020 iF Design Award (Discipline: Product)
The John Deere 8R tractor series, all of which are built with precision robotics and feature advanced self-driving capabilities, were also awarded the 2020 iF Design Award for their contribution to the efficiency and productivity of agricultural producers. According to iF, the 8R tractor series has been a game-changer for the entire agricultural industry, transforming the way farmers not only conduct their tasks in the field, but they way they operate their entire businesses.  
"The new John Deere 8Rs are not your average tractors," the organization stated. "They are mobile computational platforms, engineered to help resolve some of the biggest challenges farmers face today."
Improve Efficiency and Performance with the John Deere 8R Series
As we've seen, the John Deere 8R series has a broad range of tractor options and available features, making it simple and easy to find the perfect configuration of power and technology to fit your unique needs.